Apply now
Job ID

21002117
Date posted

Oct. 12, 2021
Minneapolis, Minnesota
Sales
Overview
We're here for the hard-working businesses that keep the world turning. They're the companies who make, deliver, and sell the things we all need. They trust Epicor to help them do business better.
Their industries are our industries, and we understand them better than anyone. By working hand-in-hand with our customers, we get to know their business almost as well as they do.
Our innovative solution sets are carefully curated to fit their needs, and built to respond flexibly to their fast-changing reality.
We accelerate every customer's ambitions, whether to grow and transform, or simply become more productive and effective. That's what makes us the essential partners for the world's most essential businesses.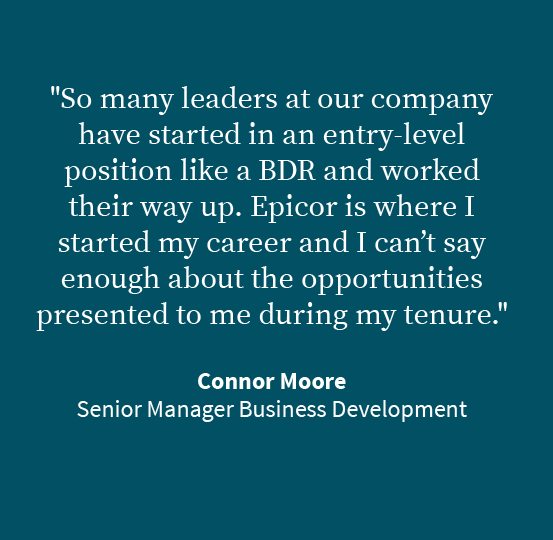 Key Skills
Drive

Our BDRs should have the determination to focus on hitting their goals while prioritizing their workload. Being driven to succeed is a necessary strength for success.

Coachable

Can you handle constructive feedback? Being able to listen, learn, and grow from your mistakes helps our BDRs stand out.

Competitiveness

Competition is something we don't shy away from here at Epicor. A healthy competitive spirit between colleagues helps many of our BDRs succeed.

Problem Solving

Do you search for an answer to your own question before asking someone else to find it for you? Perfect. Being able to think quickly and solve problems is important for any successful BDR.

Resiliency

Every day is different. Some days are good, some are more difficult. The ability to learn from your mistakes and keep moving forward is imperative.

Networking

Can you talk to just about anyone? You'll speak to prospective customers each day and having the ability to relate to them is important to building strong relationships. Networking internally is also an important skill in a BDRs career journey.
Success Profile
Do you have what it takes to succeed as an Epicor BDR? These are some of the key skills you will need: (1 Beginner – 10 Expert)
Drive 10
Competitiveness 8
Resilience 7
Coachability 10
Ability to solve problems 8
Adaptable 8
Set Up For Success
At Epicor, you can benefit from a whole range of support from the day you start. From classroom training and new hire checklist to job shadowing, mentorship and our Sales Excellence Curriculum, you can be sure to settle in well here.
The Sales Excellence Training Curriculum makes up the first two months of your time here. Not only will you work directly with an expert coach, but you'll also learn to tackle business challenges, achieve personal objectives and open the doors to future promotion opportunities.
The role
Business Development Representative
About Us:
Epicor Software is a global technology leader dedicated to helping businesses drive growth for more than 45 years. Our modern, industry-specific software helps customers boost efficiency and productivity by simplifying and automating everyday processes. We have a stellar team of nearly 4,000 worldwide employees who are passionate about building exceptional products and solutions through teamwork, constant innovation, and integrity. We strive to hire and reward star players who inspire one another and drive results for the business and our customers.
About the Role:
Your job will be to generate interest in our suite of visionary ERP software solutions. As a Business Development Representative at Epicor, you'll begin to learn the ropes immediately. In your first weeks and months, you'll focus on training and gaining as much knowledge as possible around Epicor and our products. As you learn, you'll begin reaching out to prospects and building relationships with key industry stakeholders.
You'll need to have passion, positivity, and personality to enjoy the challenge of a new career in business development. Persistence and resourcefulness are also important if you're to reach and engage potential customers. If you're looking for a role with a ton of opportunity to gain new skills, win new business, and become part of an outstanding global team, it's time to talk to Epicor.
What You'll Do:
Create inroads with key decision-makers in businesses across the US to generate interest in Epicor products.

Grow and nurture opportunities for the sales organization.

Keep on top of market research to share with your Territory Manager in order to stay ahead of the game.

Call, e-mail, DM, smoke signal the top 100 companies in your territory, and build trust-based relationships.

Always. Be. Learning. From Epicor products to our value proposition, to the many applications for our software, make sure you know the latest.
What You Need to Succeed:
You are goal-oriented and highly self-motivated for success, with a proven track record of achieving set goals

You are adaptable and thrive in situations where you can think quick on your feet

Bachelor's degree preferred
Additional Skills That Could Set You Apart:
Previous experience in: Business Development, B2B Sales, Call Center/Telemarketing, Customer Service

Prior work in retail, hospitality, automotive, manufacturing or distribution industries

Experience with CRM Software (e.g. Salesforce)

Evidence of hitting/smashing targets
Why You Should Click "Apply":
This role, more than most others, can act as a springboard for your career. Did you know that over 25% of all our roles are filled internally? Check out what some of our employees are saying about internal mobility at Epicor here.
#LI-KT1
"Epicor is an equal opportunity employer. All qualified applicants will receive consideration for employment without regard to race, gender identity, disability or veteran status."
Apply
Career Path
Your career development is a high priority at Epicor and we'll help you progress along a structured path.
The skills garnered in your time as a BDR can easily be translated to careers in field sales, management, marketing, professional services, consultancy (software and implementation) and beyond.
Within Epicor, your path will be clear and achievable.
Associate Business Development Representative
Business
Development Representative
Senior Business Development Representative
Principle Business Development Representative
Associate Business Development Representative
Principle Business Development Representative
Business
Development Representative
Senior Business Development Representative
The importance of the BDR Role
Day in the life of a BDR: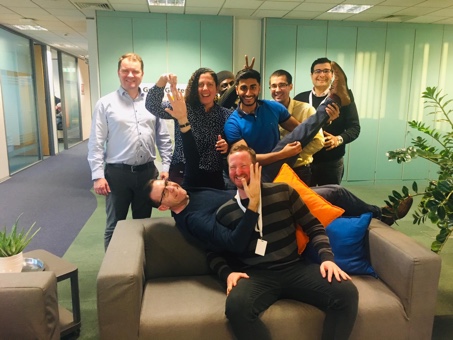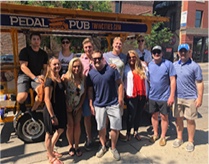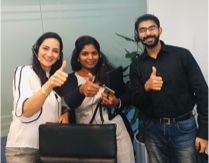 In your Business Development Representative role, you'll show just how much you know about the sales process. This means helping with customer engagement by offering compelling solutions. Setting the tone for the entire Epicor relationship and buying experience. It also means being the voice of Epicor, building awareness and sharing our success with potential customers.
In your role, you'll also identify quality sales opportunities for Territory Managers. You'll learn customer budgets, stakeholders and timelines. Needs and challenges will be discovered, allowing you to develop strategies and use your multitude of talents to get customers through the sales process.
Join Our Talent Community
Send Us Your resume/CV
If you prefer, you can email your resume/CV directly to us and we'll contact you if a suitable role arises.
Email Resume
By submitting my CV/resume or signing up for job alerts, I agree to receive phone or email communications from Epicor and its subsidiaries about Epicor employment opportunities as they may arise. I understand that the Epicor Privacy Policy will apply and that I may withdraw my consent to these communications at any time.